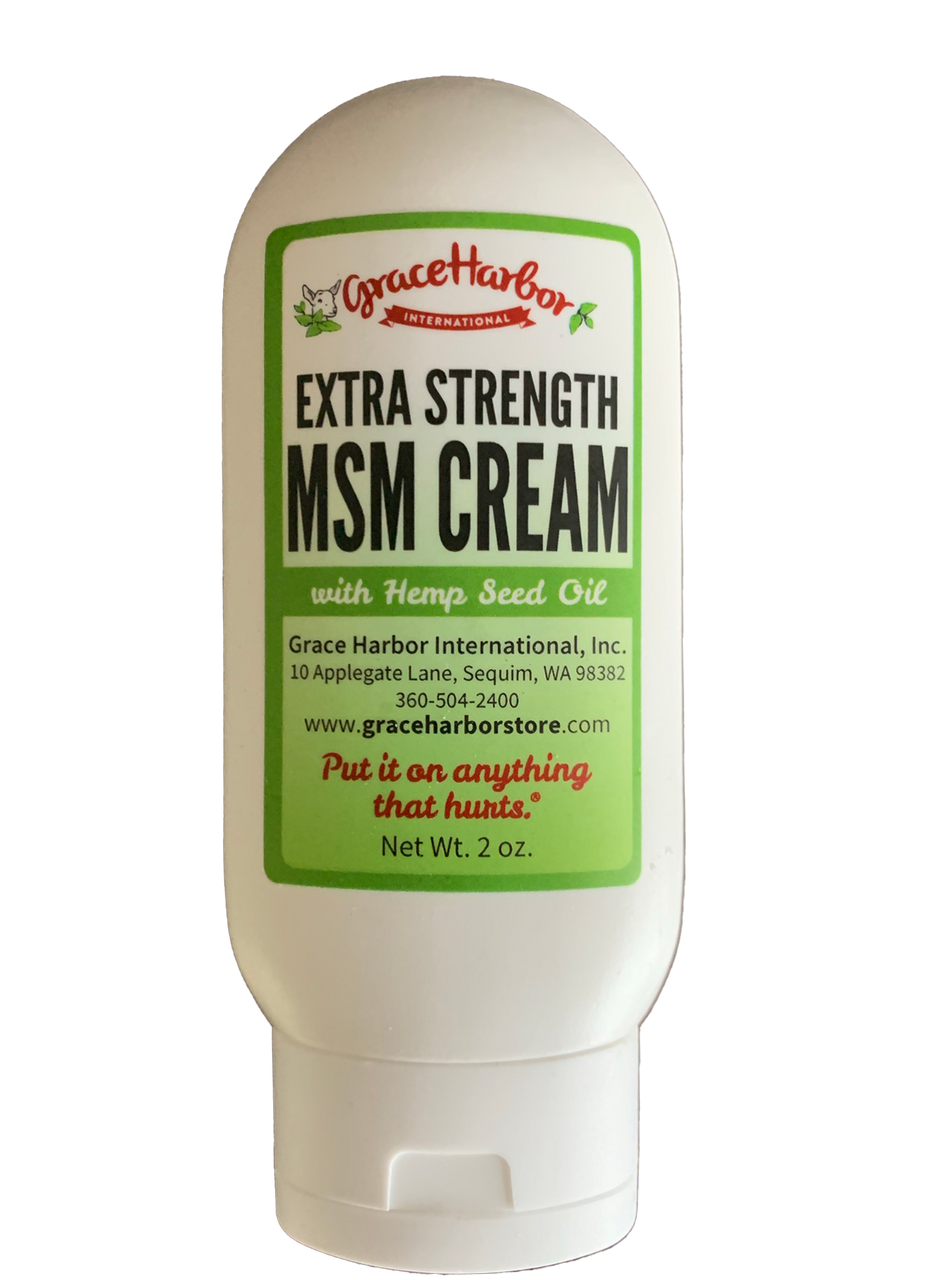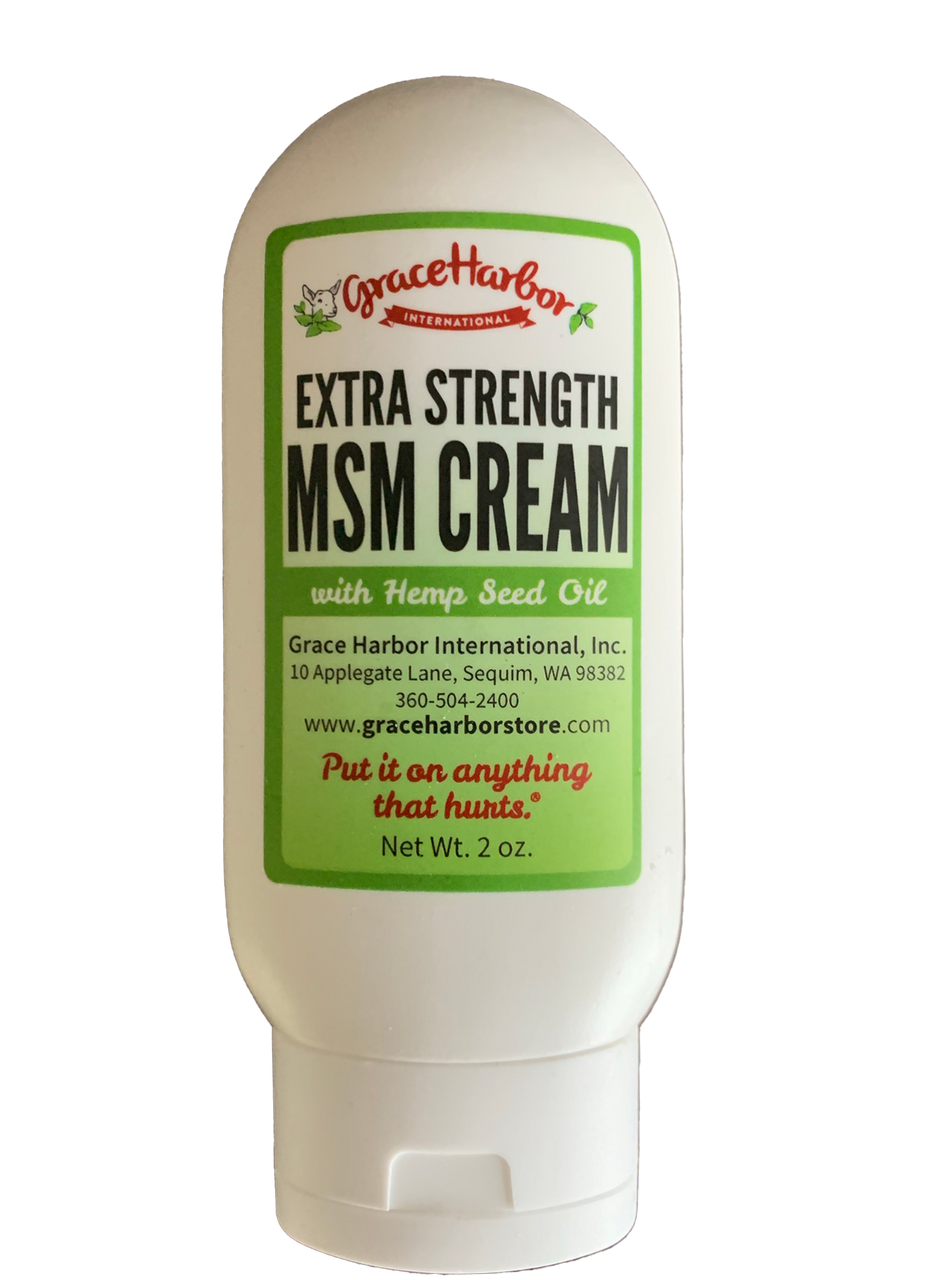 Extra Strength MSM Cream by Grace Harbor Farms
Extra Strength MSM Cream by Grace Harbor Farms
Product description
Shipping & Returns
Extra Strength MSM Cream by Grace Harbor Farms
Grace Harbor Farm all-purpose skin care and pain relief cream is a must for the home, car, and camper. This rich, handcrafted cream can be used as needed for pain relief and to promote healing. Use it for all aches and pains including arthritis pain, joint or muscle injuries, stiffness, soreness, bug bites, burns, scratches, and dry skin. Contains essential oils that are widely used to ease muscle aches in painful joints. These oils are natural antiseptics and antibiotics. MSM is a natural anti-inflammatory. Avoid using close to your eyes.
Essential Oil Healing Properties:
Rosemary--stimulates circulation, opens surface capillaries, is anti-fungal, anti-bacterial, clears sinuses, and eases muscle stress.

Eucalyptus--used to soothe wounds, asthma, colds and fever is antifungal against Athlete's foot and Candida, and eases muscular aches and pains. It is an insect repellant, soothes burns, and eases breathing.

Peppermint--has an enlivening effect. It is antiseptic, antiviral and antispasmodic. It can relieve headaches and fatigue. It can clear the head and aid concentration.


Apple Yarns offers free shipping within the United States on orders over $100.00. If your order is below $100.00, shipping is $6.99. For Canada, we offer free shipping on orders over $120. If your order is below $120, shipping is $18.99. Shipping to other countries is also available. You'll receive a tracking number when your order has shipped, we ship Monday through Friday.

Our main goal is to make you happy with your purchase. If for any reason you're not 100% thrilled with your order, you can return or exchange the items within 30 days of delivery. We understand that there may be exceptions, and we'll work with you to ensure your satisfaction. At Apple Yarns, we want you to love your projects, and we'll do everything we can to make your buying experience a great one.

If you have any questions, please don't hesitate to contact us at shop@appleyarns.com or call us at 360-756-9992.
So helpful for relief of pain
MSM cream is fabulous! Helps to reduce pain when I've been crocheting too long, also helps with my bum knee! Worth the investment!
Relief
Extra Strength MSM Cream works wonders for my hands and knees! I like the fact that it absorbs quickly without any residue. I don't wait long to get back to knitting or crocheting!
June, I am so glad that the MSM Cream brings you relief, we love it too. Thank you for the 5★★★★★ review. Andrea
Aches and soreness be gone!
When hands get sore and maybe stiff and make your knitting less than enjoyable, a bit of this cream rubbed on your hands is like magic! I also have a bit of 'pickle ball' elbow and I tried the cream… it worked to relief the ache.
Deanna, MSM Cream is perfect for Pickle Ball elbow and Fiber Loving fingers. Thank you for the 5★★★★★ review. We've been selling MSM Cream for 10 years and we love it. Cheers, Andrea
Lifesaving cream!
I use a dollop of this cream on my lower back EVERY morning to ease my low back pain from laying down all night. It works wonders as the pain goes away and I'm set for my day! A little on my bad arthritic knee helps, too!
We're with you Ardis, we've been selling MSM cream for over 10 years and using it too. Thank you for the 5 ★★★★★ review on one of our favorite local products. Cheers, Andrea
Immediate Soothing of Pain!
The first time I used this cream I was astounded by the pain relief it provides immediately. When I woke in the morning my hands were not in pain per their usual. This non greasy lightweight yet effective pain relieving, softening cream is a staple on my vanity. I've noticed also with regular use reduces hangnails, too, a definite plus for anyone! I get I will not allow myself to run out of it!
Linnea, we just love your review because this is what we say about Grace Harbor MSM Cream too. Thank you for the 5 STAR reveiw. Cheers, Andrea