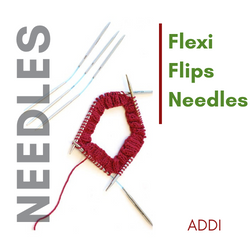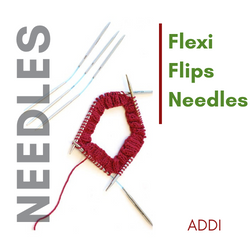 Addi Flexi Flips
Product description
Shipping & Returns
addi® FlexiFlips
Cast-on to an effortless new method of knitting socks, cuffs, hats, and many of other projects which are worked in the round, with the

 

addi® FlexiFlips. Made specifically for North America, these specially designed 21cm circulars (3.5" tips with 1" cord) rest comfortably in the hand, and act as flexible double pointed needles. Easy to use, stitches are simply distributed over two needles, and then knit with the third - resulting in only two needle changes per row.

The

 

FlexiFlips

 

feature both an

 

addi® Rocket

 

tip and an

 

addi Turbo®

 

tip. You will always have the right needle, when you need it. Overly versatile,

 

FlexiFlips

 

also make great cable needles.
Apple Yarns offers free shipping within the United States on orders over $100.00. If your order is below $100.00, shipping is $6.99. For Canada, we offer free shipping on orders over $120. If your order is below $120, shipping is $18.99. Shipping to other countries is also available. You'll receive a tracking number when your order has shipped, we ship Monday through Friday.

Our main goal is to make you happy with your purchase. If for any reason you're not 100% thrilled with your order, you can return or exchange the items within 30 days of delivery. We understand that there may be exceptions, and we'll work with you to ensure your satisfaction. At Apple Yarns, we want you to love your projects, and we'll do everything we can to make your buying experience a great one.

If you have any questions, please don't hesitate to contact us at shop@appleyarns.com or call us at 360-756-9992.