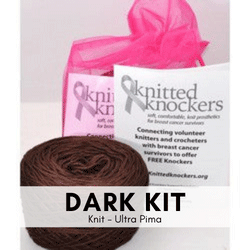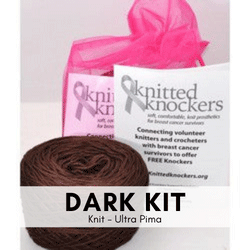 Kit - Knit or Crochet, Knitted Knockers
Kit - Knit or Crochet, Knitted Knockers
Product description
Shipping & Returns
Why KNITTED KNOCKERS, crochet too?  There are over 50K mastectomies in the US each year.  Prosthetics are expensive, hot and heavy; Knitted Knockers are soft, lightweight and huggable. As of July 2023, 560,000 hand-knit/crochet breast prostheses have been given to women FREE.
ULTRA PIMA FINE (crochet) and ULTRA PIMA (knit) by Cascade Yarns are volunteer favorites because they're 100% pima cotton, don't split, washable, soft and affordable.  After many washings (machine washable) they're still soft and comfortable. You can knit or crochet up to 3 Knockers per kit (depending on the size).
Kit includes: Knitted Knocker printed pattern and pdf pattern, 2 Skeins Ultra Pima Fine (recommended for crochet) or 1 Skein of Ultra Pima (recommended for knit) and pink organza project bag.
Double Point Needles Sold Separately US 4 (Ultra Pima Fine) or 5 (Ultra Pima).
For international orders you will be charged actual shipping costs and will refunded the difference.
Crochet.                                           Knit
Apple Yarns offers free shipping within the United States on orders over $100.00. If your order is below $100.00, shipping is $6.99. For Canada, we offer free shipping on orders over $120. If your order is below $120, shipping is $18.99. Shipping to other countries is also available. You'll receive a tracking number when your order has shipped, we ship Monday through Friday.

Our main goal is to make you happy with your purchase. If for any reason you're not 100% thrilled with your order, you can return or exchange the items within 30 days of delivery. We understand that there may be exceptions, and we'll work with you to ensure your satisfaction. At Apple Yarns, we want you to love your projects, and we'll do everything we can to make your buying experience a great one.

If you have any questions, please don't hesitate to contact us at shop@appleyarns.com or call us at 360-756-9992.
Can't wait to start knitting!
Fabulous
I love the thread that it is made from so soft.
Awesome service and yarn.
I have ordered from Apple Yarns for years. This is my go to yarn store when I am knitting knockers. This yarn is QUALITY !
Great project for a great cause
The yarn is comfortable to work with, and it comes in a beautiful package suitable for gifting your final project. It's a small, quick project, so it is a perfect yarn-palate cleanser for between larger projects. Wish there weren't a need for these items, but I am happy to do my small part to help someone who is going through this.
Thank you for your 5 star review of the Knitted Knocker Kit, Cheryl. We appreciate you and all the volunteers that knit for Knitted Knockers.
Cheers
Andrea
Noble Knitting
Now that I am a member of the club who needs knitted knockers, I am even more enthusiastic than before about this initiative and noble pursuit to support those needing a prosthetic alternative. The yarn is perfect, the pattern is easy to follow and the joy of knowing you're helping someone going through a very difficult time is perhaps the greatest feeling of all!